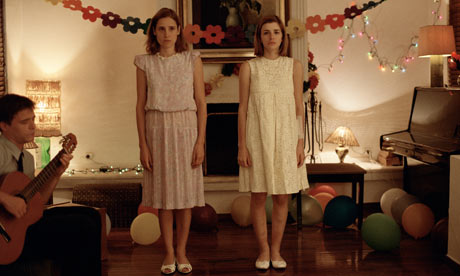 Fun for the whole family! Especially the part that hates fun. Source
Tomorrow's our first official day of work, but most of the staff is already here. I arrived around 3:30 and made my way to the hotel. My room is on the third floor, which should be good for my calves, and I'm sharing it with one of the Czech writers.
I'll apologize in advance for any spelling errors in the next few weeks. The spell check feature on this blog has switched to Czech and I don't know how to fix it, so you'll have to rely on my personal spelling skills, which are less than perfect.
My first assignment is to cover a sidebar--that is, a non-competition category--on Greek cinema. I'm not sure if there's a direct connection between the dissolution of the economy and the bleakness of artistic output, but the Greeks seem to be a pretty dark bunch. I watched
Dogtooth
a few nights ago and couldn't decide which scene to have nightmares about first--which is not to say that it's a bad movie. It's been well received, and with good reason. But it's the kind of film that gets under your skin. Like a burrowing parasite, only slightly more grotesque. Nonetheless, I've been enjoying them and the article is slowly coming along.
Of the English staff, only our translator is here, so I have our closet of a staffroom to myself. That's not hyperbole--we are literally in a closet. The chairs and tables and other odds and ends that occupy this room for the rest of the year have been hauled out into the hallway, and five desks have been set up inside. I've claimed the one nearest the door, which tends to be a good spot until my editor loses something off of his desk and decides to borrow one of mine--which he can do without moving since this is, after all, a closet. But aside from the occasional filching hazard, it's a good desk. By which I mean it's close to the coffee machine.
With any luck, I'll have time tomorrow to take a break from movie-viewing to take a few photos of the town. As far as I can tell, everything looks exactly the same as it did two years ago. By the time I showed up, they'd already rolled out the crystal globe statues and the flags and blown up the enormous inflatable cinema that sits at the foot of the Hotel Thermal like a swollen tick. So everything appears to be ship shape. More updates as events warrant....